Playground Theatre
How Theatres Trust supported The Playground Theatre with two grants to improve its operational viability.
The Playground Theatre is a local fringe theatre in a converted bus depot in West London. It opened to the public in 2017, having first been established in 2009 as an artists' creative hub and development space. Its communities range from those on large housing estates, such as Lancaster West Estate, to the Imperial College Campus, and commercial developments such as Westfield and White City.
In spring 2018 the Theatres Trust awarded £5,000 to The Playground to widen its fire exit. This small act had two rather significant outcomes - the theatre's capacity was able to expand from 120 to 200 seats and crucially also allow disabled access.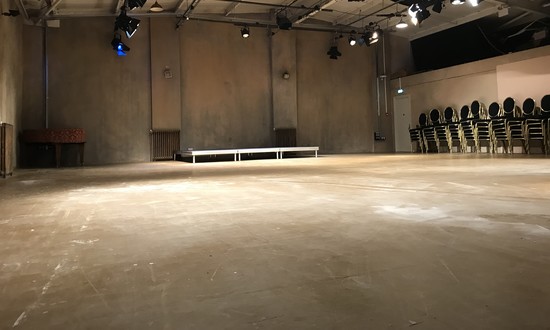 In 2019, we were able to award the venue a second small grant of £5,000 to improve its technical facilities and signage and make it a more flexible and usable space with greater visibility from the street.
"We are very grateful to have been awarded two small grants by the Theatres Trust. The support will allow us to continue to show works that challenge both the artist and the audience, that reflect and resonate with the world around us; and place us firmly in the heart and mind of our community, in a building more attuned to its needs." Anthony Biggs, The Playground Theatre
Find out more about our grant schemes.