Palace Theatre
One of Plymouth's finest surviving Victorian buildings, which could make a viable music or community venue; in an area targeted for regeneration.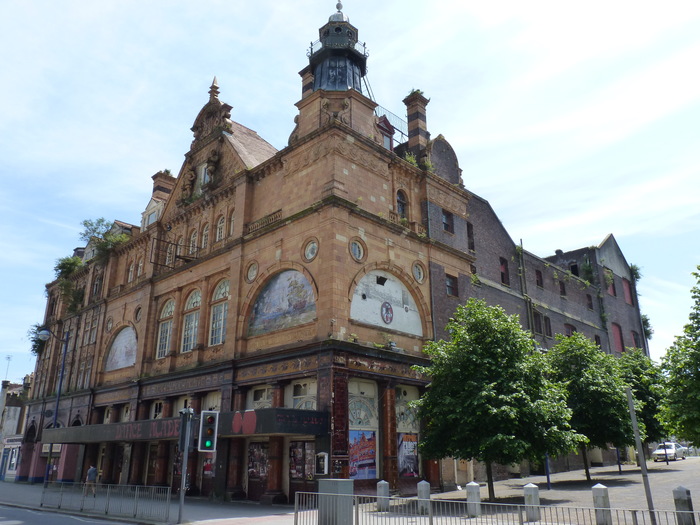 Address

121 - 123 Union Street, Stonehouse, Plymouth, Devon, PL1 3NB

Risk Rating

8 (Community Value: 2, Star Rating: 3, Risk Factor: 3)

Local Authority

Owner

Manochehr Bahmanzadeh

Architect

Wimperis & Arber

Date of Construction

1898

Listing

Grade II*

Capacity

Estimated at 1,200

Database Link
Significance
The Palace Theatre is a Victorian building of outstanding architectural quality. It was built for the Livermore Brothers to a design by Wimperis & Arber. Originally called the New Palace Theatre of Varieties, it played host to a multitude of acts. Externally, it is decorated with Art Nouveau tiles depicting scenes of the Spanish Armada and the nautical theme continues inside with plasterwork featuring ship lanterns, shields, swords, flags, and wreaths.
Why is this theatre at risk?
Plymouth Palace has been on the Theatres at Risk Register since 2006 when we started the list.
The theatre, together with the adjoining Great Western Hotel, also appears on Historic England's Heritage at Risk Register where it is listed as 'in very bad condition and under immediate risk of further rapid deterioration or loss of fabric'.
The Grade II* listed Plymouth Palace has been empty since 2006. Significant investment and repair work is required to secure the building fabric. Work was undertaken in 2013 and 2015 to make the theatre weathertight and further temporary weatherproofing has been put in place in the last two years, however, photographs of the interior indicate ongoing deterioration.
There have been some signs of hope for the theatre over the years, but sadly nothing has come fully to fruition. In 2015, a youth support charity GO! (Great Opportunities) Together acquired the long-term lease for Plymouth Palace and the Great Western Hotel and began the process of restoring and repairing the building but pulled out of the project in early 2017. Since then, there has been substantial community interest in bringing this building back to life. There have also been several unsuccessful offers to purchase the building by private investors keen to restore the Palace for live performance.
Theatres Trust has been involved in providing advice to interested parties about the necessary processes involved in restoring and reopening a historic building. Sadly, neither community nor commercial interest has been able to unlock ownership or long-term leasing of the building, currently viewed as the major hurdle in seeing this remarkable theatre restored and reopened.
A series of break-ins to the building in 2018 resulted in Plymouth City Council serving a Section 215 notice on owner Manochehr Bahmanzadeh, the local businessman who ran the theatre as a nightclub prior to its closure in 2006. Works were carried out, but the theatre still lies vacant, in an ever-worsening state of decay, and increasingly vulnerable.
Theatre potential
The Palace is not in a central location, but it is in an area targeted for regeneration. The city is well served with theatres, but the Palace could be viable as a music, community, and live performance venue, with the adjoining hotel that interconnects with the theatre used for a cross-subsidising activity.
Current situation
Past discussions between Theatres Trust, Historic England, and Plymouth Council have indicated that all parties have a similar desire for the theatre and hotel to be restored and reopened, and for viable and sustainable reuse of the buildings.
Historic England is considering commissioning its own options appraisal and high-level viability study of the theatre and hotel to help provide baseline information on the heritage restoration and to outline any potential for enabling development that may be acceptable on the site.
Luke Pollard, MP for Plymouth Sutton and Devonport, launched a Buildings at Risk List, highlighting the top 10 buildings in Plymouth that he wants to see restored, and the Palace Theatre was top of this new list.
Theatres Trust will continue to liaise with both Historic England and the council to find a sustainable and viable outcome for Plymouth Palace to see this important theatre building restored and reopened for the benefit of its local community.
Images Plymouth Palace, Theatres Trust, 2013