Theatres at Risk Register 2021 announced
This year's list highlights 31 buildings with significant architectural merit and strong community value that are under threat.
Now in its 14th year, the Theatres at Risk Register supports theatres under threat of demolition, redevelopment or permanent closure across the UK, and calls the public's attention to these buildings, their challenges, opportunities and those who fight for them.
Theatres Trust believes that theatre will come back stronger than ever and that each building on the Theatres at Risk list has real potential to be a valuable asset to its community, to bring much needed footfall to its town centre and spark regeneration of its area as part of the recovery post-Covid.
New addition to the list
Although there have been devastating job losses due to the pandemic, relatively few theatre operators have ceased trading and fortunately none of the buildings left empty look to be in imminent danger. There is therefore just one new addition to the list this year – Co-op Music Hall in Ramsbottom near Bury. It is a rare and important surviving musical hall from the 1870s. Located on the upper level of a retail and office building, the music hall has been vacant and forgotten for many years, but remains in remarkably good condition. It is now under threat of redevelopment for housing, which would see the sad loss of this remarkable theatre.
Progress in a difficult year
Following a difficult year for the theatre sector, none of the theatres on the 2020 list have been removed, but positive steps have been made by several theatres, particularly those receiving additional support through our Theatres at Risk Capacity Building Programme over the past two years including Burnley Empire, Derby Hippodrome, Groundlings Theatre, Leith Theatre, Morecambe Winter Gardens, Spilsby Theatre, Streatham Hill Theatre, Swindon Mechanics' Institute and Walthamstow Granada.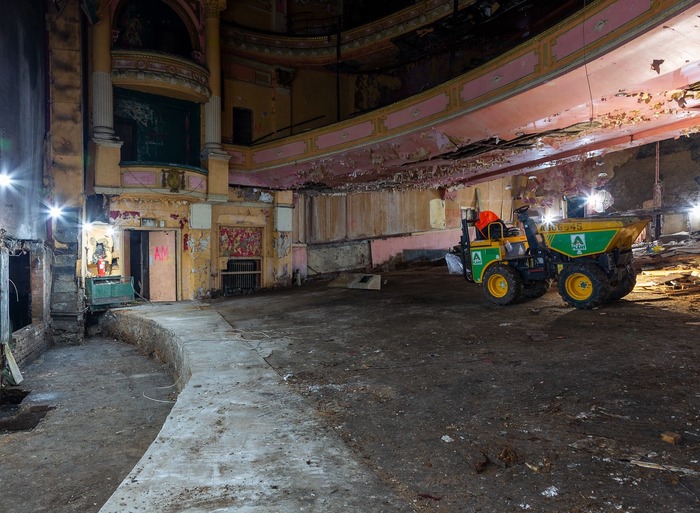 Selling vacant buildings and developing land
We have seen an emerging trend during the pandemic where vacant theatre buildings are sold off by private owners. The second part of 2020 saw Brighton Hippodrome, Garston Empire, Salford Victoria and Theatr Ardudwy all put up for sale. Hulme Hippodrome will also go to auction in February at the over-inflated price of £950,000 but a campaign group has formed to try to save the building to return to use by the community as a museum to Manchester's musical history. Theatres Trust hopes to be able to work with the new owners to secure the futures of these theatres.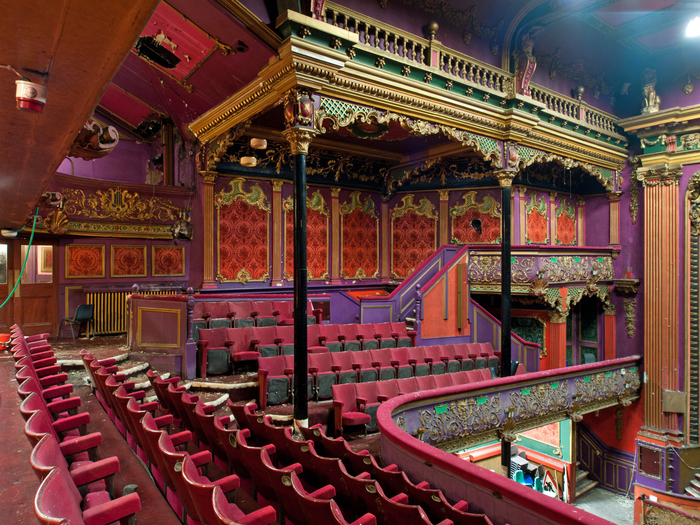 There has been bad news for both the Intimate Theatre in Palmers Green and Dudley Hippodrome as plans have progressed in both cases that would see these historic and culturally significant buildings demolished. Theatres Trust continues to lobby to protect these buildings.
Read our full press release or look at all of the theatres on this year's Theatres at Risk list.
To understand how we decide which theatres are included on the list, read about the assessment criteria.
Image Credits:
Ramsbottom Co-op Music Hall - Ken Howarth www.heritagephotoarchive.co.uk
Burnley Empire after ground floor strip out - Burnley Empire Trust
Hulme Hippodrome - Ian Grundy