Conference 19: Contributors
Find out more about the speakers and chairs taking part in Conference 19: Centre Stage - artist and audience at the heart of theatres.
Samira Ahmed, Journalist, Broadcaster and Theatres Trust Ambassador
Journalist, broadcaster and documentary maker Samira Ahmed presents Front Row on Radio 4 and Newswatch on BBC1. She is a visiting professor of journalism at Kingston University and a regular contributor to the Big Issue. Samira became a Theatres Trust Ambassador in 2018, having had a lifelong interest in theatre.
Rob Bearyman, Associate Director, Bennetts Associates
Rob joined Bennetts Associates in 2006 as a member of the Elizabeth II Court project team, and helped develop it into an award-winning, highly sustainable low-energy scheme. Rob was also the project architect for the recently completed Royal College of Pathologists in Whitechapel, an example of a new generation of 'Knowledge Buildings' which are helping shape the future of some of the UK's leading institutions. Currently Rob is leading the development of Woolwich Works. Breathing new life into a collection of historic buildings, the scheme will become a new cultural destination for London.

Nasima Begum, Con:Struct capital project young people's team, Contact Theatre Manchester
Nasima is a poet, producer and creative practitioner. Currently the Youth Development Lead / Acting Coordinator for the Manchester Bangladeshi Women's Organisation, she is also a Trustee of Young Identity, having been a member since 2013. Nasima is interested in diverse leadership and works with Contact in various capacities such as advocacy and recruitment. She has worked with HOME, Royal Exchange Theatre and The Lowry. She has also performed at BBC poetry festival Contains Strong Language, Hay Festival, the Festival of Manchester, and the British Council's BritLitBerlin conference. Most recently she was involved in the Manchester International Festival as one of five local artists selected for the Jerwood Arts Creative Fellowship.
Jessica Brewster, Artistic Director & CEO, Theatre Deli
Jessica is a founding Artistic Director and CEO of Theatre Deli, which runs four 'alternative' venues in London and Sheffield that provide resources and support for the independent theatre sector, with a focus on immersive, participatory and political work. She is also Director of the Roses Theatre in Tewkesbury, Gloucestershire and has worked extensively in TV as a Producer and Director. Shows she has worked on include The Great British Bake Off and My Last Summer. She studied at RADA and King's College London.
Paddy Dillon, Trustee, Theatres Trust
Paddy is noted as a theatre architect and conservationist, and as a writer and broadcaster. He led Haworth Tompkins's architectural team for the award-winning regeneration of the National Theatre, and before that headed the regeneration of Snape Maltings. He was a director at Allies and Morrison Architects, leading projects for the Roundhouse and RADA, and is now an independent architect and consultant. He sits on the casework committee of the Twentieth Century Society, and the editorial board of ITEAC. Paddy Dillon became a Trustee of the Theatres Trust on 1 January 2016.
Anna Dinnen, freelance consultant and co-author of ACE's 'Capital Works! Building Transformation' report
Anna Dinnen is an independent consultant whose work includes research, programme design, planning and evaluation for funders, as well as supporting individual charities and SME's in the arts and cultural sector across England and Wales. Typically, this involves developing business plans and devising sustainable business models, interrogating earned income opportunities and aligning organisational culture, systems and processes with vision and goals. She particularly loves supporting people through major organisational change. She has worked in the sector for twenty years, previously as Senior Programme Manager in the Digital Arts and Media team at Nesta (2014-16) and in a variety of roles at Arts Council England (2000-2012). She is currently a board member of Worcestershire Arts Partnership.
Joe Douglas, Artistic Director, Live Theatre, Newcastle
Joe is Artistic Director of Live Theatre, Newcastle upon Tyne, the only Arts Council NPO theatre dedicated to New Writing outside London. His directing work for Live Theatre includes Clear White Light, Christmas Crackers and The Cheviot, the Stag and the Black, Black Oil (with Dundee Rep and National Theatre of Scotland). Other work includes: Arabian Nights (The Lyceum, Edinburgh), Death of a Salesman, The Resistable Rise of Arturo Ui, The BFG, George's Marvellous Medicine (Dundee Rep), The Last Polar Bears, Our Teacher's a Troll (National Theatre of Scotland), Stand By, Letters Home, Educating Ronnie (Edinburgh Fringe First Awards).
Phil Evans, Director of Tourism & Enterprise, Eastbourne Borough Council
Phil is responsible for Tourism and Enterprise at Eastbourne Borough and Lewes District Councils. Both authorities take an entrepreneurial approach and run a wide range of discretionary services, including theatres, marketing, filming, leisure facilities, and heritage attractions, Tourist Information Centres, a new conference centre, international tennis, events, seafront services, a golf course and a pub. Eastbourne Theatres runs the Congress Theatre (the biggest in the south-east), the Victorian Devonshire Park Theatre and the historic Winter Garden. Phil was the client for the £55m Devonshire Park project, which was completed this summer. Phil is a Fellow of TMI and the ATHE.
Liam Evans-Ford, Executive Director, Theatr Clwyd
Theatr Clwyd is the largest
producing theatre in Wales. Over the last two years it has produced 23 productions – with over 700,000 people having watched its produced and presented work across the UK. Since Liam took up the post of Executive Director Theatr Clwyd has increased its annual turnover from £5m to £6.9m. Before moving to Clwyd Liam worked as Associate Producer for York Theatre Royal – leading on business continuity planning and delivery during the £6m re-development of its building. Liam moved to Yorkshire following the offer to produce on The York Mystery Plays 2012 production, went onto produce Blood + Chocolate for Pilot Theatre, Slung Low and York Theatre Royal and then took up post as Interim General Manager for Sheffield Crucible Theatres. He was also the first Producer of The Factory Theatre Company and Co-founder of Sprite Productions.
Nadia Fall, Artistic Director, Theatre Royal Stratford East
Nadia is the Artistic Director of Theatre Royal Stratford East. Her recent productions include a revival of August Wilson's King Hedley II and The Village by April De Angelis. She was an associate director at the National where her work included Home, Dara and Our Country's Good. Fall directs Chekhov's Three Sisters, in a new version by Inua Ellams later this year.
Matt Fenton, Artistic Director & Chief Executive, Contact Theatre Manchester
Matt is Artistic Director and Chief Executive at Contact in Manchester, the leading UK arts venue to place young people at the decision-making heart of the organisation. Matt leads on Contact's innovative public programme of contemporary theatre, dance, spoken word, music and cabaret for young and highly diverse audiences. Each year Contact delivers a wealth of young people's creative and leadership activity, including flagship projects The Agency, ReCON: young programmers, and Future Fires. Matt is currently overseeing Contact's major £7m capital redevelopment to include a new arts and health research studio in partnership with Wellcome Trust, a recording studio, and a creative industries incubator space for emerging arts professionals.
Tim Foster, Architect, Foster Wilson Architects
Tim is a founding partner at Foster Wilson Architects. Over a period of nearly 40 years he has been responsible for the design and remodelling of over fifty different theatres, from low cost conversions to major refurbishments and new buildings. Tim was a contributor to Theatre Buildings: A Design Guide, published by Routledge in 2010. He is currently chairman of the ABTT Theatre Planning Committee and the OISTAT Architecture Commission. He was elected a Fellow of the ABTT in 2012 and was a Trustee of the Theatres Trust from 2009-2015.
Hannah Fox, Director of Projects and Programmes, Derby Museums
Hannah is leading the new Museum of Making project at Derby Silk Mill, the site of the world's first factory. Trained as a designer and photographer, Hannah's background is in developing cross-sector creative projects that put people at the heart of how places, products and services are co-designed to support community needs. Hannah is a faculty member with US-based National Arts Strategies and University of Pennsylvania Center for Social Impact Strategy, supporting programmes for people working in arts and culture. She is a board member of FIGMENT Global participatory arts project and has an Irish/Scottish accent (in case you wonder).
Roddy Gauld, Chief Executive, Bolton Octagon
Roddy has been Chief Executive at Octagon Theatre Bolton since 2012. The Octagon is currently going through an ambitious change and £11m capital programme that will see it re-open in spring 2020, bigger, better and braver than ever. He recently became at Trustee at the Dukes in Lancaster and prior to joining the Octagon, Roddy worked for several years at Arts Council England in regional and national roles, including Senior Manager for Theatre and Director for NPOs. Earlier in his career he worked in youth arts and venue management.
Rebecca Holt, Executive Director & Deputy CEO, Battersea Arts Centre
Rebecca has worked at Battersea Arts Centre (BAC) in various roles for the last eight years, taking up post as Executive Director and Deputy CEO in November 2017. During her time at BAC, Rebecca has played a key role in the successful delivery of the building's capital project, in particular the reopening of the Grand Hall following a significant fire; the growth of BAC's commercial strands, including a relaunched events and catering business; and the ongoing development of the organisation's business model, which has extended BAC's reach into new activities and areas.
Jake Howarth, Con:Struct capital project young people's team, Contact Theatre Manchester
Jake has been involved with Contact Theatre for over five years in a number of different capacities, including programming and film-making. He has been a member of Contact's capital redevelopment young people's participatory programme, Con:Struct, since it began. He has a passion for the arts and takes part in photography and collage.
Tarek Iskander, Artistic Director & CEO, Battersea Arts Centre
Tarek is Artistic Director and CEO of Battersea Arts Centre. Previous roles include National Director for Theatre at Arts Council England and Resident Director at the National Theatre Studio. Tarek was also one of the founders and Associate Artistic Director of The Yard Theatre in Hackney. Prior to embarking on a new career as a director and writer, he held a wide variety of management posts in the National Health Service.
Mark Lewis, Associate Director, Levitt Bernstein
Since joining Levitt Bernstein in 1995, Mark has worked on many theatre projects across the country. He leads design teams on complex cultural buildings, often in challenging heritage contexts, with particular skill at taking difficult briefs, producing imaginative designs and seeing these through from inception through to completion. Several of his projects have also been recognised with industry awards.
Martin Lydon, Associate, Haworth Tompkins
Martin has worked with Haworth Tompkins since 2005. He has played a key role in a range of the studio's theatre and cultural projects involving historically significant buildings, leading phases of work forming part of the NT Future refurbishment and the rebuilding of Battersea Arts Centre's Victorian Grand Hall, damaged by fire in 2015. Martin is a third year undergraduate design tutor at Manchester School of Art. He studied Architecture at the University of Sheffield.
David Micklem, Co-founder, 64 Million Artists
David is a theatre producer who has been involved in some of the most talked about productions of the last decade: Artichoke's The Sultan's Elephant, Punchdrunk's The Masque of the Red Death, and The Passion for National Theatre of Wales and WildWorks. From 2007-2012 he was Artistic Director of Battersea Arts Centre in south west London. Since then he has worked with artists, companies, and festivals to develop and present new performance work for all kinds of contexts. He's the Co-founder of 64 Million Artists – a campaign to unlock the creative potential of everyone in the UK.
Jon Morgan, Director, Theatres Trust
Jon is responsible for leading the work of the Trust, and the development and delivery of the Trust's strategy. With a wealth of experience across the theatre and arts industry, Jon joined the Theatres Trust in January 2017 from the Federation of Scottish Theatre (FST) where he had been Director since 2008. Jon's previous roles include Director of Edinburgh Festival Fringe, Executive Producer of Contact Theatre, Manchester and General Manager of TAG, Glasgow with earlier periods at Royal Conservatoire Scotland and Orchard Theatre, Kent.
Julia Negus, Producer – Theatre Absolute & Shop Front Theatre
Julia is the Co-founder of Theatre Absolute, a theatre company based in Coventry. The company works on a project funded basis, commissioning and creating new works for theatre. In 2009 Theatre Absolute opened the Shop Front Theatre, a low-fi 60 seat flexible space in an empty fish and chip restaurant in a shopping arcade in Coventry. At the Shop Front Theatre, Julia produces and programmes theatre and live arts events created by Theatre Absolute and other companies. She also brokers new partnerships, mentors independent theatre makers, and supports small arts and non-arts organisations within the Coventry community.
Colin Nightingale, Creative Producer, Punchdrunk
Colin has been part of the core team at Punchdrunk since 2002, working across a number of roles from production management on early shows like The Firebird Ball (2005), Faust (2006), The Masque of the Red Death (2007) and The Duchess of Malfi (2010). As Senior Producer, he managed the creation of their first international production Sleep No More (2009) in Boston and its transfer to New York City (2011). He has been a co-creator on various projects including Tunnel 228 (2009) in conjunction with the Old Vic Theatre and a one-off commission at the secretive Vescovo Medical Centre with musician Jack White (2014). Over recent years he has been helping develop new projects and ideas for the company, along with masterminding the transfer of Sleep No More to Shanghai which opened in December 2016 and is now the 2nd longest running theatre project in China. He also works on his own independent projects which include a sound, film and visual art installation called Beyond The Road which ran for three months this summer at Saatchi Gallery.
Russell Potter, Director, SODA Studios
Russell has worked on prestigious projects in and around central London, building a reputation for sensitively integrating contemporary architecture within the context of complicated and delicate existing buildings including the Grade II* listed 76 Dean Street and the ongoing redevelopment of Walker's Court, including the Boulevard Theatre. Russell has been the recipient of numerous accolades and his work has been widely published. His passion lies in distilling a client's brief and vision and translating this into a coherent and articulate built form.
Oliy Royds, Joint Founder & CEO, Troubadour Theatres
Olly is an Olivier award-winning West End theatre and film producer. He specialises in building and running large-scale temporary theatres having built eight commercial theatres since 2009, including the award-winning Kings Cross Theatre. In 2017 Oliver and Tristan Baker co-founded Troubadour Theatres, opening three new theatrical spaces in Wembley Park and White City. These dynamic venues are fully flexible, bespoke structures, to offer the producer, audience and creatives, innovative spaces to work and create, in vibrant destinations. He set up his own production company BOS Productions Ltd in 2004 and has numerous theatre and film credits to his name.
Bryony Shanahan, Associate Artistic Director, Royal Exchange Manchester
Bryony is Associate Artistic Director and incoming joint Artistic Director of the Royal Exchange Theatre, Manchester. She won the Genesis Future Directors award and directed Trade at the Young Vic in 2016. Directing credits include: Enough (Traverse Theatre), Queens of the Coal Age (Royal Exchange Theatre and New Vic Theatre); Chicken Soup (Sheffield Crucible Theatre); Operation Crucible (Finborough Theatre/Sheffield Crucible Theatre/59E59 Theaters, New York) and Bitch Boxer (Soho Theatre, International tour).
Lynette Shanbury, Executive Director, Polka Theatre
Lynette joined Polka Theatre in south London in August 2018, just before the start of a major redevelopment of the theatre. The £7.5m project is now under way, with the theatre scheduled to reopen in late summer 2020. Prior to joining Polka she was Executive Director at participatory arts company Spare Tyre and at Little Angel Theatre in Islington. Lynette has previously been a Trustee for Scarabeus Aerial Theatre and is currently Chair of Trustees for VocalEyes, who promote better access to art and heritage experiences for people who are blind or partially sighted.
Anna Stapleton, Trustee, Theatres Trust
Anna is a Freelance Arts Manager, with over forty years' experience of working in the arts. Previous posts include Administrative Director at the Citizens Theatre, Glasgow; Drama and Dance Director at the Scottish Arts Council; and Drama Director at the Arts Council of England. She has also worked with a range of producing theatres in Scotland and England. Anna Stapleton became a Trustee of the Theatres Trust on 12 May 2014.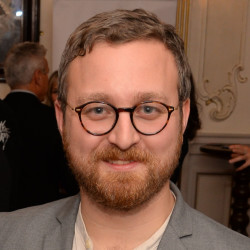 Tom Stickland, Theatres Adviser, Theatres Trust
Tom manages the Theatres Trust's grant schemes and provides advice around the effective operation of theatres, including fundraising and viability. He previously worked at HQ Theatres & Hospitality as Business Manager. Prior to this he was the national administrator for Arts Council England's Cultural Olympiad programme and the evaluation of the London 2012 Festival, and worked as a freelance venue manager operating venues of all sizes.
Rachael Thomas, Executive Director, Birmingham Rep
Rachael is Executive Director at Birmingham Rep Theatre and is working on its capital project, Open House. The project will remodel front-of-house spaces to generate additional income and better connect the building with its outside spaces. She was Executive Director of Derby Theatre and prior to that Castle Development Manager for Lincolnshire County Council, where she led the delivery of a £20m HLF-funded Lincoln Castle Revealed project. Prior to that she was Head of Finance and Administration at Nottingham Playhouse where she led the delivery of another HLF-funded project, a £2m refurbishment of its front-of-house and catering facilities, and creation of CAST restaurant.
Katie Town, Executive Director, Theatre Royal Wakefield
Katie was born in and spent her early life in Yorkshire. After studying Law at LSE, Katie initially qualified as a barrister. She decided on a change of career and worked at the Royal Opera House, Candoco Dance Company and the National Theatre. Katie returned to Yorkshire at the end of 2015 to lead Theatre Royal Wakefield. Since then Katie has been committed to reinvigorating the theatre's creative programme, whilst also investing in the theatre building. This has included designing, building and opening the new Centre for Creativity in 2018, an extension with a new Studio and enhanced audience facilities.
Nicola Walls, Director, Head of Arts & Culture, Page \ Park Architects
Nicola is a practicing architect with Page \ Park Architects. Her professional involvement in arts buildings mirrors her personal interests and, as Head of the Arts and Culture team, Nicola is actively involved in producing memorable spaces for people to engage with creative and cultural activities. Nicola's key performing arts projects include the redevelopment of Eden Court Theatre in Inverness, Scottish Opera's Theatre Royal in Glasgow, Leeds Playhouse and new foyers for Birmingham's Symphony Hall. Nicola sits on the Board of the Tron Theatre in Glasgow.
David Watson, Associate Director, MICA Architects
David specialises in designing with historical structures on complex cultural projects. Over recent years he has worked with a sequence of notable 20th Century buildings: Lyric Hammersmith extensions and refurbishments; later phases of the South Bank Centre masterplan; Centre Point; and The Towner Gallery, Eastbourne, an extension to the grade II* listed Congress Theatre. MICA won the competition to design a new Cultural Quarter across the Fair Field in Croydon in 2015. David has led the project teams from competition through planning and delivery stages for various individual projects including the recently re-opened, restored, extended and regenerated Fairfield Halls.
Mike Yates, Director, Austin-Smith:Lord
Mike has been with Austin-Smith:Lord for more than 20 years and became an associate in 1999 and a director in 2007. He and his team are currently executive architects, working with concept architects, Helm Architecture, to recreate the Jacobean Cockpit-in-Court theatre at Shakespeare North. The 350-seat theatre forms the centrepiece of the new landmark building, which will also be a visitor attraction and community facility.
Madani Younis, Creative Director, Southbank Centre
Madani Younis has been the Creative Director of the Southbank Centre, the largest arts centre in Europe, since January 2019. He was previously the Artistic Director of the Bush Theatre, a leading London New Writing house, from 2012 to 2018. In achieving this role, Madani became the first Artistic Director of colour to lead a London theatre. Madani is a Cultural Ambassador on the London Mayoral Cultural Leadership Board and has been a Groucho Club Committee Member, Trustee of the Director's Charitable Foundation, and a special adviser to Artistic Directors of the Future, amongst a number of other advisory roles.